Preferences: Setting Up Your Google Calendar
Click PREFERENCES in the upper-right corner of the software, then select the GOOGLE CALENDAR SETTINGS tab.
Inspection Schedule on Google Calendar
Have your inspection schedule feed directly into your Google calendar, we have done the programming, all you need to do is set up your free Google calendar and copy and paste the calendar code into the appropriate area in the software. It is that simple. Every time you enter a new inspection and select save, your Google calendar will show the new inspection information. You do need a free Gmail account first.
Create a Gmail account

Create a Google Calendar Account

Preferences - Google Calendar Settings
In your preferences, copy and paste the html code into the "Google Calendar Address" box for your Google calendar. Your account username and password would be your Google username and password.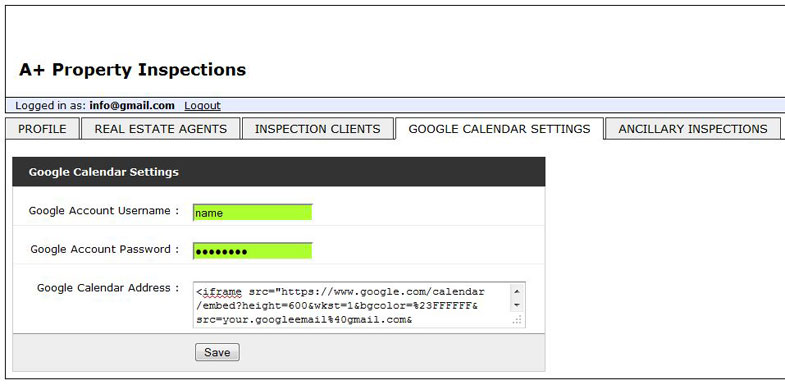 The below calendar is an example of a Google calendar, viewing by week. Your inspections will automatically be shown on your Google calendar when your inspection information is entered and saved into your online account. This also includes a link to Google Maps.